Ok I know it's a ridiculous looking dress.. but knowing that this is Lady Gaga and expecting her to wear something like this... I think she looks glamorous, Ice queen solar system.. lol but for it being Lady Gaga I thought it looked great on her. The performance between her and Elton John was fantastic!! Loved the Mash up with "Your Song" and "Speechless"
Lea Michele, probably the best dressed of the night! She looked gorgeous in that dark blue/black dress, perfect for the Grammy's
Taylor Swift looked like a beautiful movie starlet in this gown..I have to give love to my celebrity twin lol SO proud of her for taking home best album of the year and 3 other awards last night :)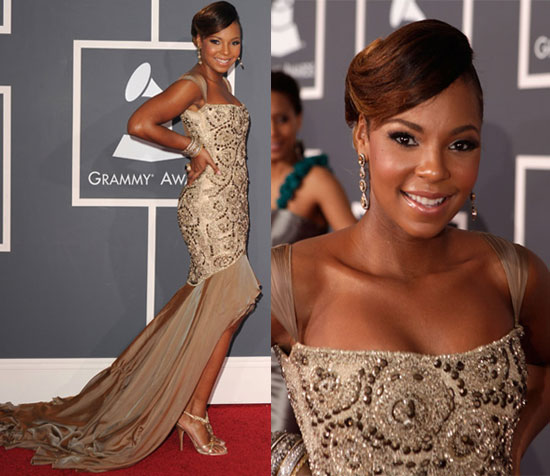 Forget Beyonce.. Ashanti look amazing in this gold number..she looked flawless!
I really liked Pink's dress I think it was pretty yet appropriate for the Grammy's
I love Carrie Underwood's dress but I don't like the random strap across her chest... I like her performance dress a lot more than this one. but still pretty!
I will say that Miley dressed age appropriate for the Grammy's this year and she looked great.. I didn't like the fake and bake tan.. makes her face look really weird IMO.
Those were the ones that really stood out last night.